Color Traces.
Opening speech by Dr. Antje Lechleiter
, Freiburg, on Sunday, October 7, 2018, at the vernissage in the Rebay-Haus Teningen.
"Color traces" is the title of this exhibition by Thomas Lefeldt. In fact, only thin traces of color or rather skins of color lie over his picture carriers. That which in his works stands out from the background in relief is not due to a pastily applied color, but to various types of material. For many decades, Lefeldt has been practicing a kind of colour and structural geology in which he goes to the limits of the third dimension.
As I will explain shortly, he has already worked with tar, sand, ash, lava and dried grass and also the colourfulness that appears in the picture through oil or acrylic paint is derived from these materials. Thus white and black dominate in addition to earth tones, a little green, red, yellow and a little blue are added. This colourfulness, however, is always weakened in its luminosity and thus blends into the circle of natural tones.
The composition "Hekla XI", created 27 years ago, hangs in the hallway as a welcoming picture of the exhibition. At that time his works were still very material-emphasized, this picture consists for example not only of canvas and oil paint, but also of tar, sand and lava. Lefeldt used his various materials to represent what could be done similarly - but not exactly so - with paint. Tar, sand, and lava emphasize the image as a physical, material object, while the painterly and sculptural forms interpenetrate to form an ambiguous and associative image that not only does not want to hide the process of its creation, but itself makes it a theme. Individual forms are not treated independently, but the pictorial structure is seen as a flowing system of overlapping color zones.
Man never appears as a figure in these compositions, but through the use of materials and the formative action of his body, Lefeldt has buried a trace in them and is present with it in his pictorial world.

Without being distracted by reminiscences of the representational, the viewer thus has the opportunity to feel his way into these multi-layered and rich visual zones. In the 1990s, Lefeldt began to work more and more on and with paper, and with paper came the somewhat more colourful colourfulness. But even without material-heavy components, Lefeldt's approach remains strongly process-oriented. Lefeldt begins by gluing over his paper and thus sets his creativity in motion. In this way something haptic is created and above all the sheet is no longer white and empty. If you take a close look, you will always recognize the letters of the newspaper clippings he inserted. Just as tar, sand or lava were previously applied to the substrate, this collaging now causes something to grow out of the paper, which - to a greater or lesser extent - reaches into the third dimension.
Then as now, Lefeldt's way of working is oriented to the Informel, but his pictures were never meant abstractly and are not today. The artist has always taken nature as his starting point, and this anchoring is not only evident in his preferred color. Lefeldt has long been intensively involved with photography, creating two groups of works that have directly penetrated his painting. On the one hand, there are photographs of weathered walls and old house facades, which Lefeldt discovered in 2004 in the central Italian Maremma. He was fascinated by the beauty of the unnoticed, the off-beaten, but this photograph was not about aspects such as transience or decay, but about the connections between different structures and their composition. His paintings refer to these aspects, in which his structures are anchored to formal scaffolding, for example right angles such as those of window frames or walls. These elements lead a life of their own in his compositions, but they also hold a delicately floating connection to reality. Therefore, I would describe Lefeldt as a tracker and discoverer whose compositions are owed more to finding than to inventing.
This is also shown by the second photographic starting point of his painting, the so-called "pond pictures", for which he often chose small sections or made macro shots. Even this photographic source material has a strongly abstract character. You can see that he looked through the viewfinder of his camera until things got a secret. The theme of his painting forms itself accordingly object free and refers - without showing its origin - to dynamic processes, to the motif of movement and change itself. Thus the picture becomes a colour landscape whose structure-rich dynamic is sometimes reminiscent of flying over natural space.
So let's sum it up again: Photography and painting on paper are closely connected in this work - materially, but also aesthetically, and they developed organically apart. Here, as there, the artist is not concerned with a depictive procedure, but rather tirelessly seeks structures that carry the aspect of growth, natural form formation and process-like transformation within themselves. His many years of intensive involvement with this theme have led to the fact that he no longer needs photography as a direct starting point. Meanwhile Lefeldt calls up the material for his pictures in his imagination. Thus it is not always possible to distinguish between pure pond and wall pictures, they have mixed into a universally valid visual experience that does not want to commit itself to a binding theme. Lefeldt merely gives impulses and wants to stimulate the viewer's imagination with his designs.
The wall block of 60 small-format, square works from 2018 is impressive. 750 of these small compositions, which Lefeldt also calls "modular wall installations", have been created since 2004/05. They are "miniature paintings", for they are not works of sketch character, but autonomous works of art that have undergone two or three different states during their creation, thereby changing structure, style, and rhythm. They never emerge quickly or spontaneously in a litter, always preceded by an intensive creative process. Layer by layer the time factor is painted into them. Lefeldt sees these works himself as a kaleidoscope of his inner movement, as diaries showing a cosmos of moods and structures.
Since 1970 Thomas Lefeldt has been engaged in painting and photography and at the same time completed piano studies at the Detmold University of Music. He is certainly known to many of you as a musician and composer. Music and painting, however, are treated completely separate from each other and so I would just like to point out that the stubborn and persistent pursuit of quality is an essential characteristic of the artist. Arbitrariness is something that both the musician and the visual artist Thomas Lefeldt deeply reject.
Ladies and Gentlemen, I already mentioned at the beginning that Lefeldt's material pictures go to the limits of the third dimension. So it was a logical step to finally turn to the object. This happened a few years ago, around 2011, Lefeldt began to coat tubes and rods with a thin skin of paint. These painting objects follow closely on from his artistic work and it is impressive with what consistency this artist has remained true to himself over the decades and has thus created a coherent, monolithic oeuvre.
Opening speech by Clemens Hunger
on 21st October 2016, at the vernissage in the Kunstforum Hochschwarzwald, Titisee-Neustadt
How can it happen that someone paints the way you can see it here?
Perhaps because his father is a photographer and landscape painter on the side, and his mother is a pianist? This creative potential was immediately absorbed by mother's milk. With such a motivated parental home, the Hamburg child picked up a pencil early on or later her father's camera, developed not only paper prints in his own darkroom, but also his artistic ambitions.
Painting, little Thomas drew wondrous map-like drawings, drew away-like lines, rivers meandered across the paper surface, he composed aerial photographs of imagined landscapes, took a bird's-eye view long before humanity was blessed with google earth.
In the 60's he even wrote to the Albanian and Romanian radio whether it was possible to send him topographic maps to draw, which they did promptly and sent him Christmas greetings for years to come as a thank you for his youthful interest.
He would have wanted and been able to become a cartographer.
He became an artist, thank God, musician, pianist in the first instance without ever letting go of the other thing, photography and painting.
He's a seeker and he finds.
As a composer melodies, as a photographer motives, as a painter happiness.
He listens, looks, attunes himself to natural and cultural spaces and takes from this cosmos of the everyday, with trained perception, the excerpt-like motifs which he first captures photographically and which serve him as a free model for his painting. So he is still on a high-altitude expedition, searching for his details in the surroundings of weathered buildings or monetar water surfaces - zooming in at the decisive moment, capturing what he finds worth seeing.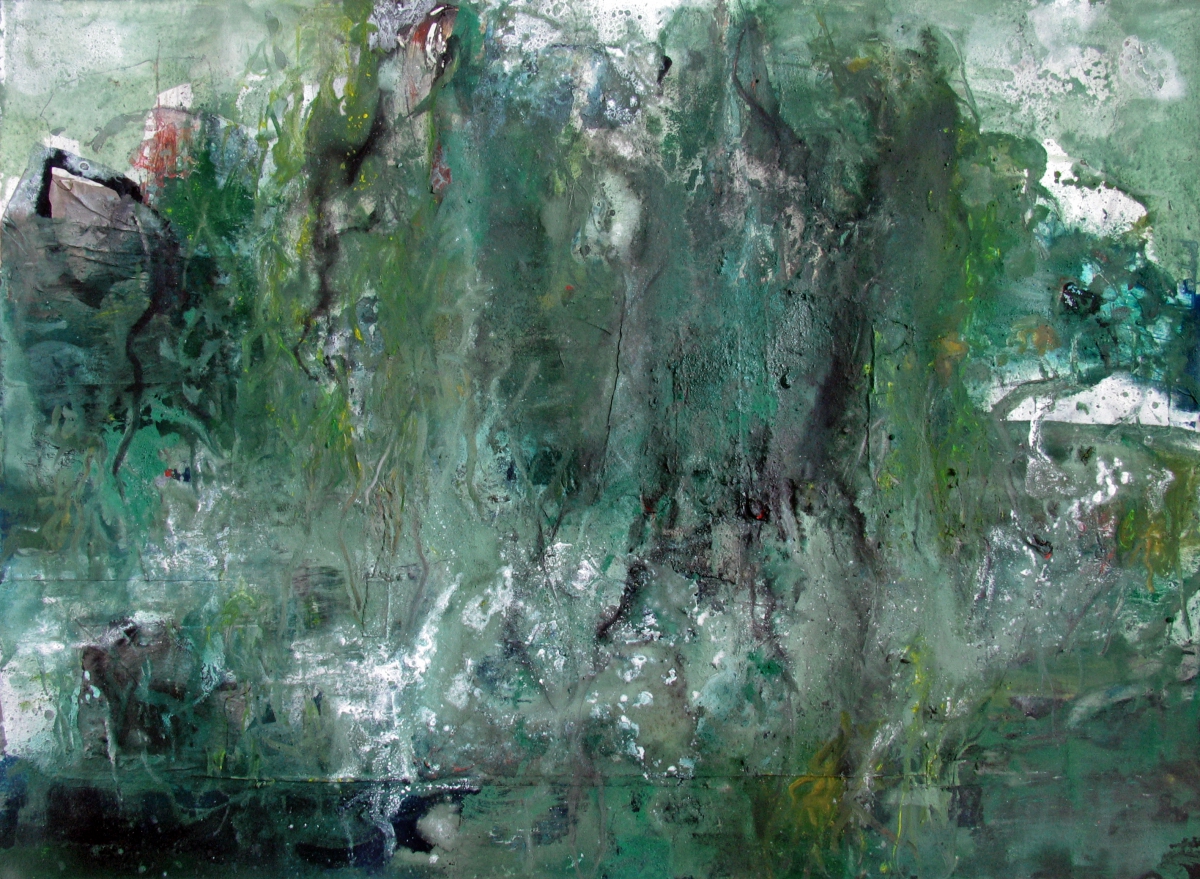 Pond pictures, wall pictures, he calls them. Photographs that are perfect in themselves. Why do they still paint?
The artist himself: I look at the earth, take photos and think that these are all not yet painted pictures.
The Romanian sculptor Brancusi once said: why should I talk about my sculptures when I can photograph them after all? On the other hand, perhaps a Thomas Lefeldt: what my photographs show, I don't have to talk about, if I can also paint it.
What emerges are no longer merely artistically valuable images of a real world, but real new creations, undiscovered landscapes of inner not outer nature. More sensual than the photographs could ever be, because the dematerialized section is redefined by the painting process, adding a material dimension and transforming itself into a completely independent picture. From the familiar, from what has already been seen, emerges what has not yet been seen. It is that which constitutes an artistic process, where what exists is tied to, but at the same time penetrates into the realm of what does not yet exist, what is still unknown, what has not yet been seen, in order to participate in an act of creation and, at the same time, to be led to oneself anew.
A real cultural deed, then.
But what does that have to do with you?
As viewers, they now have a similar opportunity to immerse themselves in these topographical pictorial works and to discover their own, very personal excerpts by wandering through these landscapes and architecturally seeming motifs, in order to acquire the pictorial works shown here as active creative partners, either ideally or also please materially.
Take a look at the whole exhibition, the artist has done his thing, now it's your turn, your attention completes the artistic process, let yourself be touched by the pictures, they become a part of them and vice versa. They need them and vice versa.
That's why you might be here.
And that is why the works shown at such a place in nature are so meaningful with them as observers.
Franz Grillparzer once put it this way: art relates to nature like wine to grapes - so we toast:
Of course to the art and of course to the artist.
Catalog "Contemporary Art from the Region"
- Art holdings of the Baden-Württembergische Bank, Freiburg 1994:
Every now and then you meet them, painters who are also musicians, musicians who paint. Reflexively, comparisons are made, searching glances and pointed ears: Isn't there something of the music of this - the same - person in this picture? If one hears the picturesque ones from the musical compositions?
Thomas Lefeldt, born 1949 in Hamburg, studied piano and composition at the Musikhochschule Detmold before coming to Freiburg in 1980 to work as a piano teacher and freelance painter. He is a musician and painter, and he does not love the search for comparisons, parallels and focal points. Music is one thing, painting another.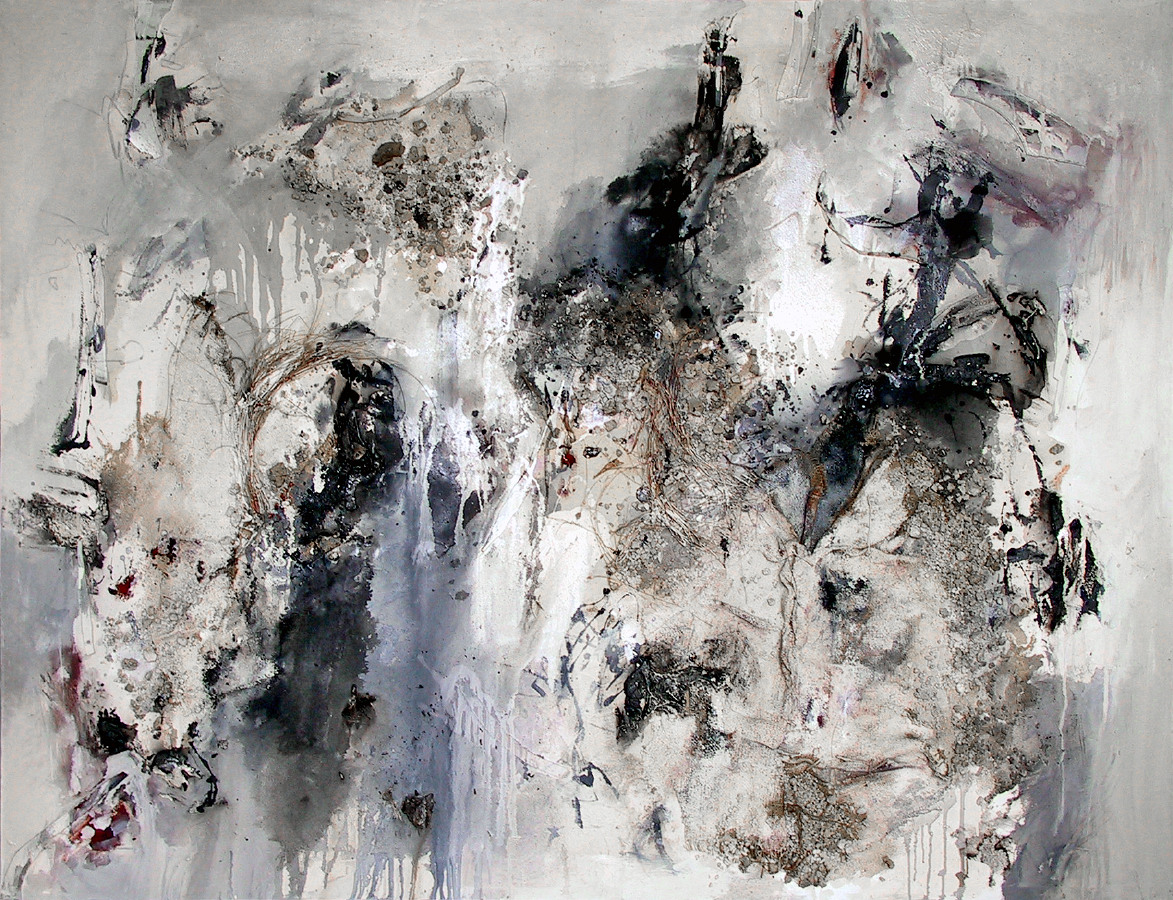 Access to the artist's paintings is provided by his preferred working means. Tar, sand, ash, various tones of Icelandic lava and dried grass belong to the permanent ensemble of Lefeldt's works, whose colourfulness is directly derived from these materials: They are natural shades, white and black - only recently have blue and sometimes red been added. Even this repertoire brings Lefeldt's pictures closer to a broadly defined representationalism than to a strictly abstract one. The natural reference of the materials and the way they are treated touches on what has been seen, even if the observer is not immediately able to remember: too casually the structure of a forest floor, the half-decayed wall behind the garden, streaks his consciousness. The artist perceived it. He looked at the seemingly familiar more closely and again and again until it changed before his eyes, first becoming alien, then revealing itself as its own world, with its own rules and laws.
Especially in the bright pictures a next step is easily done. Sandy dunes with grasses moved by the wind quickly lift the images beyond the structure to the elements: Air and water are in the pictures; and just as the elements can be transformed into each other according to Aristotle, tar, ash and the multicoloured lava have earthy quality and yet still carry the fire within them.
Lefeldt has found the four elements in the concentration on tiny sections of the earth's surface.
Kathrin Erggelet
The View of the Ground
Max Planck Institute for Immunobiology Freiburg 1988
The painter Thomas Lefeldt
Thomas Lefeldt's pictures, which can currently be seen in Freiburg's rather remote Max Planck Institute for Immunobiology, are the result of a persistent search for evidence. They are exclusively concerned with the experiences and discoveries that can be made by looking intensively at the ground. It is only from this "researching" look down, the concentration on the seemingly minor, that the Hamburg native, who lives near Freiburg, has the opportunity to shape the "world" into a picture. A microscopic view. Lefeldt's reality is a microcosm of dark, earthy brown tones, dry red pigment spots and spidery black lines. An informal material collage of grasses, volcanic ash, sackcloth, fat black runs and dirty white tracks. A realm of shadows in which unmixed bright colours almost do not occur. That sounds darker than it is, because despite the minor-colored basic mood, the pictures of the almost 40-year-old autodidact are less about the experience of decay than about an elementary curiosity: here one tries to find out what happens when one approaches things very closely.
This can look incredibly powerful, as on the large-format "Torso I", in which the black centre is stretched like a torn body inside by the surrounding white into the picture corners. It can appear precious and sensual, as in the small poetic collages of gauze stripes, fluttering white and subtle red dots, or irritatingly ambiguous.
Tobias Mauthe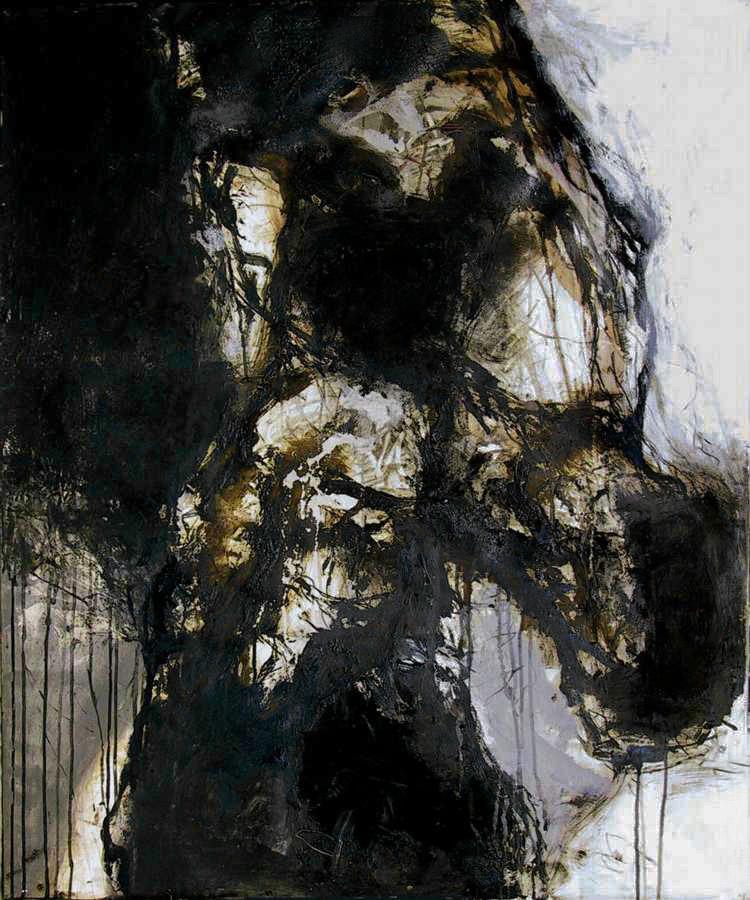 Badische Zeitung, September 14th, 1985:
Black, not as a cover, but as a contrast to surfaces and forms, which eventually culminate in a crass white, also dominates the work of Thomas Lefeldt, who presents his paintings in the old Protestant Church in Kirchzarten. Coming from music, the medium of painting opens up new possibilities of expression for him. Detached from figurative models, he has committed himself to the primacy of colours, which he limits in his selection, but which he almost increases to explosive effect through his work with tense contrasts and a "wild" painting technique.
The combination of materials, from oil to acrylic paint, pencil, chalk to bitumen as well as the paper-covered canvas give the paintings a fascinating, sometimes disturbing character.
Marion Kouremetis
Badische Zeitung, September 15th, 1985:
Thomas Lefeldt exhibits at the Kunstverein Kirchzarten
Lefeldt's art direction is informal painting: his art is non-objective, does not attempt to express something specific by means of a generally understandable symbolism. His paintings are characterized by the rhythm and structure of interlocking spots and lines.
Black, white and grey shades dominate Lefeldt's pictures. Only from time to time ochre, brown or red shine through, sometimes the grey has a bluish hue. The artist usually works with acrylic paints, which he combines with pigments, oil paints, lead, chalk or bitumen. Almost all paintings have a moving surface structure, which is created by gluing on materials such as fabric, cords or buttons or by applying and modelling thick layers of paint. The thirteen exhibited works of art appear predominantly gloomy: heavy black surfaces press on the lighter part of a picture, bright white stands out aggressively between two dark surfaces, confused lines cover like spider arms or threatening rivulets, but also like roots or paths in a landscape viewed from above the sharply contrasted or blurred differently shaded patches of colour merging into one another.
That the paintings are not intended to express anything that can be grasped conceptually, that the painting process itself is the The composition of an intuition is the result of an almost incomprehensible subjective experience at the moment of creation, which makes the description of the paintings more difficult. The viewer of Thomas Lefeldt's paintings is always tempted to read out familiar forms (a tree, a human figure, an animal's head) and, through his own conceptual interpretation, to take away from the painting a meaning that the painter did not, or at least did not explicitly put into it. But perhaps this is precisely the attraction of this painting: it is difficult for the artist to find out what he is looking for in the picture, and each observer can get out of the picture what he is looking for and is thus stimulated to his own creativity when looking at it.
Sina Schuler